---
du-d.l
Last modified: "2008/01/01 01:44:06"
Description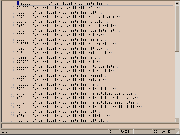 サーバのディスク容量がとっても苦しくなってきたので、 OHKUBO Hiroshi さんの insert-directory-tree.l を参考に、 ディレクトリ毎のサイズを出力するものをつくってみた。
出力したデータを sort-line でソートして、いらないあたりをさがしてみた。
Install
NetInstaller からインストールして、自動設定機能を利用していれば、 xyzzy を再起動するなりして設定を反映させればおしまいです。 (siteinit.l に自動設定機能の記述をしている場合は、ダンプファイルを作成しなおしてください)。
NetInstaller を使用していない場合、もしくは、自動設定機能を利用していない場合は、 du-d.l のコメント文を参照ください。
Usage
| | |
| --- | --- |
| 各ディレクトリのサイズを出力 | M-x dud |
| 各ディレクトリとファイルのサイズを出力 | M-x dud-all |
| 各ディレクトリのサイズをツリー形式で出力 | M-x dud-tree |
| 各ディレクトリとファイルのサイズをツリー形式で出力 | M-x dud-tree-all |
History

  [Version 1.01] 2007-12-31 (月)
  ・ライセンス条項(MITライセンス)を記載。

  [Version 1.00] 2002/12/16 (月)
  ・つくった。
    
License

  du-d.l はMITライセンスに基づいて利用可能です。
  

Copyright (c) 2002-2007 HIE Masahiro

Permission is hereby granted, free of charge, to any person obtaining a copy
of this software and associated documentation files (the "Software"), to deal
in the Software without restriction, including without limitation the rights
to use, copy, modify, merge, publish, distribute, sublicense, and/or sell
copies of the Software, and to permit persons to whom the Software is
furnished to do so, subject to the following conditions:

The above copyright notice and this permission notice shall be included in
all copies or substantial portions of the Software.

THE SOFTWARE IS PROVIDED "AS IS", WITHOUT WARRANTY OF ANY KIND, EXPRESS OR
IMPLIED, INCLUDING BUT NOT LIMITED TO THE WARRANTIES OF MERCHANTABILITY,
FITNESS FOR A PARTICULAR PURPOSE AND NONINFRINGEMENT. IN NO EVENT SHALL THE
AUTHORS OR COPYRIGHT HOLDERS BE LIABLE FOR ANY CLAIM, DAMAGES OR OTHER
LIABILITY, WHETHER IN AN ACTION OF CONTRACT, TORT OR OTHERWISE, ARISING FROM,
OUT OF OR IN CONNECTION WITH THE SOFTWARE OR THE USE OR OTHER DEALINGS IN
THE SOFTWARE.
    
---